J&H commenced out with a small office in Roswell, Georgia and rented a small facility in which to fabricate.  Thanks to the overwhelming success of our core machines, J&H has now grown to present day facilities including:
A 6.5 acre complex in the United States in Alpharetta, Georgia just north of Atlanta.  This complex contains a new custom designed office building with executive offices, conference rooms, purchasing, sales, clerical, and an extensive engineering department.  The engineering department utilizes the latest technologies,  AutoCAD for drafting and 3D imaging software Inventor and Solidworks are used for fabrication, all managed by an experienced, hands-on engineering team.
Adjacent to the office building in the Alpharetta complex is a 46,000 square foot (4273 square meter) facility which was once our manufacturing and warehousing location.  The factory contains overhead cranes, shears, press breaks, punches and continuous welding equipment.  Now, due to market demand, the primary function of this facility is for vibrator motor assembly, machine assembly, warehouse/parts storage facilities, and shipping docks with special equipment for container loading.
This facility also houses our new laboratory with full and pilot size screening, crushing, elevating and    conveying operations being conducted.  This lab, which is climate controlled, has been designed to allow our clients to observe machinery demonstrations and for running efficiency test of their various products.
Fabrication is now done at a state of the art fabrication facility just north of our complex in an 119,000 square foot (11,005 square meter) building running three shifts daily for high production yields, greatly expanding our capabilities.  At this facility, designs and fabrication drawings from our engineering department are electronically received and imported into numerous computer automated lasers, CNC forms, robotic welders, etc. to provide unprecedented quality and precision.  Fabrication capabilities include: laser cutting (2D and 3D), shearing, saw cutting, rolling, CNC punching, CNC turning, CNC milling, forming, welding (MIG, TIG, and spot), sand and bead blasting.  Fabricated components are then transferred to the adjacent powder coating facility where all carbon steel parts are coated with  special chemical resistant powder coat paint.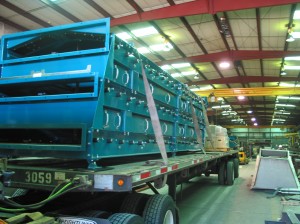 Components with their high gloss finish are then delivered back to our main assembly facility.  Here they are completely assembled, including installation of drives, wire cloth, shafts, bearings, etc.  Machines are inspected and calibrated.  All items, including loose items and spares, are then signed off by a quality control engineer, packaged for shipment and loaded into containers for export or onto flatbed trucks for domestic delivery.