From the beginning, J&H's initial product line consisted of a number of materials handling machines, especially when used with our core screening and sizing machines.   These included belt conveyor, drag flight recycle and minerals handling machines along with bucket elevators and various other machines used in industrial processing industries.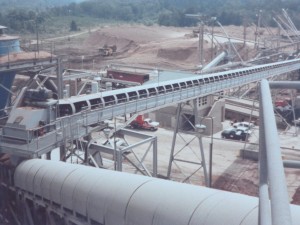 Belt Conveyors
J&H's experience includes overland belt conveyor systems thousands of feet long, as well as conveyors utilized as reactor or curing units.  These reactor conveyors ranged up to 7 feet [2134 mm] in belt width.
In addition, J&H has designed and built automated tripper systems for raw material and finished product storage, ship and barge loading conveyors in conjunction with telescopic spouts and even 12 inch [300 mm] minus large particle mineral conveyors for crusher removal and feed.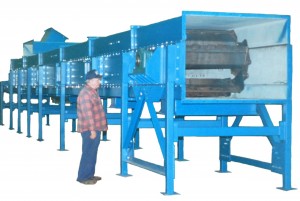 Drag Flight Conveyors
J&H has since its founding in 1975, produced a diverse line of drag flight conveyors, primarily for phosphate recycle systems, but also for the paper industry in handling wood chip reclaim from pile and rail car.
J&H drag flights have also been utilized in a number of waste water treatment facilities.  They are computer controlled and meter material to recycle processes or incinerator system feed.
Our primary drag flight market at this time is in the phosphate industry as recycle return systems.
Screw Conveyors
J&H does not manufacture screw conveyors, but we do design a number of feed and metering systems in which we incorporate screw conveyors of conveyor flight systems.
These are especially useful in conveying and metering fines granular material which are hard enough to not be degraded by the screw conveying action.
In addition to screw flight conveyors, J&H now offers several reactor conveyors with paddles for mixing and conveying.  The machines are usually rubber lined with paddles fabricated from stainless steel or some other impervious alloy.
With the above experience I am sure you can see that J&H can help you with your process machinery needs both with standard machines and custom designed items for your particular requirements.