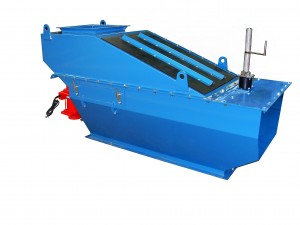 The J&H Feeder is a totally enclosed machine with a static housing and an internal stainless vibrating pan. The machine bolts directly to any J&H screen.
It is designed to increase the efficiency of a J&H screen by distributing the flow of material over the full width of its wire cloth. The design and vibration of the pan regulate the incoming flow of material by absorbing the momentum of high velocity material or "fluidizing" slow moving material.  The pan is vibrated using our J&H JHV 1800 Vibrator drive motors supported by specially developed rubber buffers.  The slope of the feeder pan is adjustable to address specific material needs and plant configuration. In addition to pan adjustment, the J&H Feeder offers optional adjustable deflectors to fine tune the material flow and comes standard with access doors for ease of inspection and maintenance.
The J&H Feeder is instrumental in maximizing the wire cloth life expectancy by effectively distributing material across the full width of the screen inlet, avoiding any one direct stream of material on only a small portion of the wire cloth.
Click here to open the J&H Vibrating Feeder brochure.  Return to J&H Feeder main page.
The J&H Vibrating Screen Feeder has been recently updated.  Click here to see a review of the improvements.
The J&H Feeder can be your solution to increasing screen efficiency.
Features

: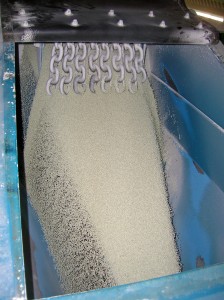 Feeder capacity ranges from 10 to 250 mtph
Available in 48", 60", 72", and 84" widths to match any J&H screen size
Adjustable, stainless steel, double-taper feeder pan
Dual J&H eccentric drive motors with the J&H floating drive system
Convenient top, rollback cover allows access to the feeder interior to view the flow of material and to perform maintenance
Access doors on both sides of feeder for maintenance