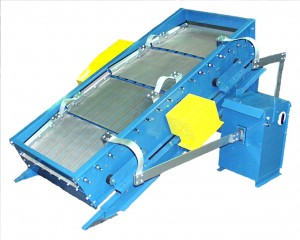 The standard J&H Screen is designed to operate with hard, dry, free flowing granules.  But what happens if the material starts off with surface moisture (like damp sand) or humid environmental conditions affect the quality of the material?  What if materials change properties, becoming hydrophilic and sticky as they cool.  For these conditions and materials, the J&H Screen machine needs some help to keep the wire cloth (and the product material) warm and dry.
A J&H Heat System applies a low voltage to the screen wire cloth, turning the entire screen into a heater.  The wire cloth is electrically isolated from the frame of the screen machine.  The power for the voltage is supplied by a J&H heavy-duty transformer mounted in a vented enclosure.  Taps on the transformer permit the output voltage to be adjusted from 3 – 12 volts in 6 steps.  Up to 1000 amperes of continuous secondary current may be applied, 1300 amperes for short periods of time.  All power passes through an ON-OFF switch and the power selector is equipped with a safety trigger disconnect, which protects the system from high current arcing, and must be depressed to change the power setting.
Heating systems can be installed for the standard vibrating screen as well as the vibrating body Vector Drive screen machines.  Heavy gauge bus bars convey the power from the transformer to the two connection points on the screen.  For the direct drive vibrating body screens, a short length of flexible braided cable is used to connect the bus bars to the screen.  The rigid bars can be factory made or field installed.  Accurate location of the transformer box relative to the screen must be determined for prefabricated bus bars.
The heater system cannot correct poor processing, material with off spec moisture or elevated acid content, but can significantly improve the screening efficiency for certain applications.  Please discuss adverse conditions with your J&H Representative to see if the Heater system can be the solution.