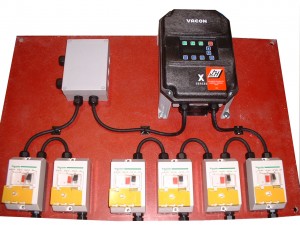 The J&H "Speed Clean" is a special variable frequency system that prevents wire cloth blinding of your J&H vibrating screen by periodically changing the running frequency to a brief higher energy cleaning cycle frequency without interrupting production.
Adaptable to the type of material running through the screen, it eliminates manual cleaning of the wire cloth.  Available for all types of J&H vibrator motors, its cleaning mode is fast and efficient.  Rather than interrupt production, it maintains the screening efficiency to the highest levels throughout the lifetime of the wire cloth.  Customizable, including freeze protection and a robust NEMA 4X/IP66 enclosure, it can be installed right next to the screen or included in a control box with faceplate.  An additional feature of our "Speed Clean" is that it provides a solution for remotely controlling the J&H screen while maintaining the ability to shut down each vibrator individually.  A unique feature of the J&H Speed Clean is the ability to ramp up and ramp down the change in frequencies, resulting in  gradual bell curve frequency changes rather than instant changes in vibration, which is necessary for wire cloth longevity and proper cleaning.
Being maintenance free itself, reducing maintenance interventions on screens, helping maintain the screening capacity of your J&H machines, the J&H Speed Clean is the essential option!
Features:
Provides a solution for remote control of your screen and a programmable, automated cleaning system
Eliminates manual cleaning of the wire cloth
Available for all J&H vibrator motors regardless of voltage or rpm
Power feed available from 220V to 660V/3PH/50 or 60 Hz
Cleaning mode does not interrupt production
Maintenance free
Customizable program settings, such as freeze protection and cleaning duration
Only one Speed Clean is necessary per screens
Installation next to the screens for programming convenience
Ability to make gradual frequency changes increase the life of the wire cloth
Robust NEMA 4X/IP66 enclosure for tough environment
Sequencing feature enabling ramping up and down of cleaning mode