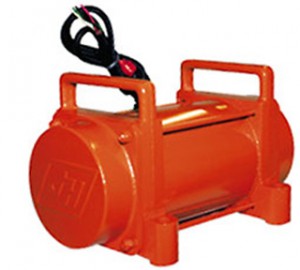 J&H manufactures vibrator motors especially designed for its own screening and feeding machine requirements.  The J&H Vibrator Motor is totally enclosed not ventilated (TENV).  Built with epoxy encapsulated windings and 50 mm, sealed SKF ball bearings, they are designed from feet to lead cable to withstand the very high frequency vibration and generated heat.  Most applications for J&H Screens use a two pole model which runs at 3600 RPM nominally at 60 Hz or 3000 RPM nominally at 50 Hz.  Standard for J&H Feeders, we use a four pole model which run at 1800 RPM nominally at 60 Hz or 1500 RPM nominally at 50 Hz.  Vibrator motors are available in voltages ranging from 220V to 660V at 50 or 60 Hz and the same motors are used on our machines in every world region.
Besides generating optimum vibration for J&H machines, the J&H Vibrator Motor's light weight combined with its vibration generation efficiency allows for easy maintenance and very low power consumption (less than 1 A in normal operation).  At all power supply voltages and frequencies, the J&H Vibrator motor are intended to work with the J&H Speed Clean for screening applications.
Featuring an "easily" adjustable eccentric weight system, its vibration generation can be optimized according to your needs. The motor itself is watertight with seal ring gasketing and reinforced lead wire enabling maintenance crews to clean entire machines without having to dismantle the motors. Easily implemented repair kits are available to rebuild older motors to "like new" standards at the end of their lifetime.
Whether you want to reduce your power consumption or simplify your maintenance procedures, the J&H Vibrator Motor is the solution.
Features:
Available in 1800/3600 rpm 60 Hz or 1500/3000 rpm 50 Hz
Epoxy encapsulated windings
50 mm, sealed SKF ball bearings for longevity
Adjustable eccentric weights
Water-tight, seal ring gasketing
Repair kit available and easily installed
Light power consumption (usually 1 A or less)
Lightweight – can be handled by one person