J&H Material Diverters accommodate all types of material distribution needs.  Built with two or three discharges, our valves will handle from 50 to 800 tph and up of dry, loose material.  Actuators position diverting blades or buckets in order to divert the input stream of material as required for plant processes.  Actuator power feed can be electrical or pneumatic in both fixed position and in modulating versions.
J&H Material Diverters will adapt to all situations and can be used as dump valves, distributing valves, recycling control valves, bucket valves, and more.  Their robust design will provide faithful service for years with a minimum of setup or maintenance intervention required.  For diverter applications where more than two discharges are required, the J&H Multiport Rotary valve is an ideal solution.  For application where splitting or modulating operation is required, see the J&H Material Stream Splitters.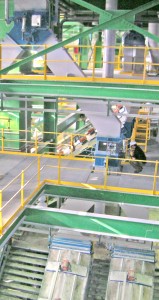 J&H Material Diverters are available in two operating types: modulating "smart valves" and "fixed position" non-modulating valves (open/close only travel).  J&H modulating  "smart valve" material diverters are available with a linear or rotating electromechanical actuator or a modulating pneumatic actuator. Standard command signal and feedback is 4 to 20 mA.  J&H fixed-position material diverters are available with linear or rotary electromechanical or pneumatic actuators. Built with a body of carbon or stainless steel, with optional AR400 steel liners in impact areas where required, the valves are coated with a durable, industrial powder coat. Internal blades or buckets are made of stainless steel. All our diverters are built with full-width access doors to allow for easy cleanup or access to the internal components. Control can be as simple as a local control box or can be integrated into a DCS system control with live feedback. Optional independent IP65 limit switches are available for position confirmation of fixed position valves.
See Modulating Control Valves brochure.  For information on other types of J&H Valves click here.
Features

:
Modulating Material Diverters
2-way, 3-way
Linear, rotary electromechanical, or pneumatic actuators
Modulation capability from 0 to 100% of stroke
4 to 20 mA position signal input and feedback signal
Non-modulating Material Diverters
2-way, 3-way
Fixed positions
Linear, rotary electromechanical, or pneumatic actuators
Bucket or blade
Common Features
Carbon steel powder coated body
Full-width access doors on each side
Stainless steel blade or bucket
Optional IP65 independent limit switch for position confirmation
Capacity ranges from 50 to 800 tons per hour
Control can be as simple as a local control box or can be integrated in the DCS control system with live feedback