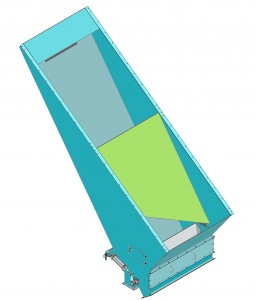 The J&H Fines Hopper with Modulating Discharge Valve is a special collection hopper that bolts under any J&H screening machine. Inside the hopper is an angular separation plate (shown in green in the image at left), which ensures optimal material cut from the modulating control gate located below the hopper.
The purpose of this screening system addition is to present only material smaller than 3 mm back to the granulator and to provide that recycle material at a constant, controlled rate. Once the production process stabilizes, the effect of this gate is to eliminate or minimize feedback of the product into the recycling loop and in this way to reduce the creation of oversize product and to stabilize the entire recycle flow of most phosphate type plants.
Bolting up directly under any J&H screen, this hopper is full width of the screening machine and allows for a full-width divider blade. The width is an advantage as the gate can peel off an accurate percentage of the recycle/fines material. It also allows for a full machine width stream to be introduced to the lower screening machine when arranged in series, eliminating long chutes and feeding machines and helping where space is a concern. Full-width access points give access to internal components and easy clean-up. The stainless steel divider blade is actuated by a choice of linear; rotary electromechanical; or pneumatic modulating actuator controlled by a 4 to 20 mA signal. Optional, independent IP65 limit switches combined with a local control box or DCS system control give the operator the flexibility and control to help you stabilize the chemical process loop and improve the quality of your final product.  See J&H Material Diverters for more details and options for the valve actuation.
With all of the thought into the modulating portion of this clever process valve, J&H has not forgotten the hopper.  This valve is designed with all of the attention and many of the same options available to our standard hopper.  Like all J&H Hoppers, this one is rigorously constructed to meet the requirements and specifications for your plant environment and product material, maintaining proper slopes for material flow control.  A dust collection flange at the upper end of the hopper allows for control of generated dust and provides a negative pressure for the material on the screen machine above to promote an efficient screening process.
Whether you want to increase your production with the same machinery or you are looking for a better solids/liquids control in the granulator, the J&H Hopper with Modulating Discharge Valve makes the difference!
Features

: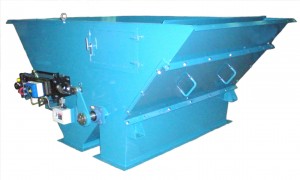 Collects and regulates the flow of the recycle from the screening process
Bolts directly to the standard J&H Vibrating Screen
Linear or rotary electromechanical or pneumatic modulating actuator
4 to 20 mA command signal
Optional, independent IP65 limit switches
Control from a local control box or directly from a DCS system control
Carbon steel construction coated with resistant, industrial, powder coated paint
Full-width access for blade removal and clean-up
Stainless steel divider blade
Lateral access door for "in production" inspections
Eliminates or minimizes feedback of product into recycle loop
Stabilizes recycling curve
Reduces oversize production
Increases production capacity with the same machinery due to better product