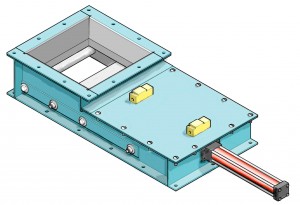 Gate valves are used primarily on hopper discharges, truck loading chutes, and feed chutes that need to be completely shut off for process reasons or for maintenance.  Knife valves are not to be used for general flow control for process as this is better controlled by J&H Diverter or Splitter Valves.  J&H has gate valves that are pneumatically or electromechanically actuated to ensure that there is plenty of power to move the knife plate even when supporting a load of product.  To help the movement, the corrosion resistant stainless steel knife plate for all J&H gate valves are guided by roller bearings.  Rubber wipers and gaskets keep material where it is supposed to be and prevents dust and product from coming out from the valve.
Pneumatically controlled gate valves are usually two position, fully open and fully closed, although a three position pneumatic system can be specified for a mid range position.  Electromechanically operated gate valves can be controlled to open to any position for some flow control.  Feedback from the actuator can be used to confirm blade movement and position, even if it is only used for fully open and fully closed operation.  Thrust switches protect the actuator from jams.
The design for the valve body can be standardized to match any connection flange on another J&H product or customized to match bolt hole patterns on existing or specified chutes.
For information on other types of J&H Valves click here.