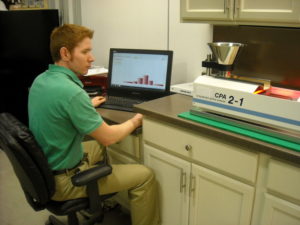 J&H will do the task of determining which wire cloth mesh for J&H Screen machines is most appropriate for your application.  We have set up a research and test lab with two batch loaders and one continuous loop process screen for evaluating the performance and efficiency of any customer product.  See Test Lab brochure.
Our lab is equipped with mesh sifters and other equipment to technically evaluate your product to determine initial particle size percentages and particle size distribution after screening.  This way, we can verify that the mesh that we recommend will work as expected for your product and provide the highest processing efficiency.
Contact J&H for instructions on providing the material to us, or make an appointment to visit the climate controlled lab yourself to see a demonstration.  The facility is located adjacent to our company headquarters and manufacturing shop in Alpharetta, Georgia.