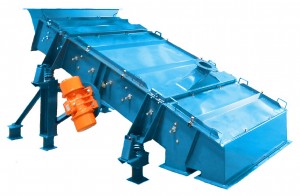 The Vector Drive screening machine is a high frequency, vibrating body machine designed for wet and dry configurations.
It features four wire cloth sections that are set in a concave configuration to take advantage of the body motion when used for dry material and set in a convex configuration to profit from the conveying action of the liquid when used for wet material. Its operating range varies from 800 to 3000 vibrations per minute depending on the size of the material. By design, the VBS screen machine maintains the necessary acceleration and maximum frequency while maintaining a low amplitude of movement that allows for maximum screening efficiency.
From a few pounds to hundreds of tons per hour, whether processing dry or wet material, the VBS screen is our most versatile, energy efficient, and reasonably priced screening machine from purchase to a maintenance point of view.
See J&H Vector Drive brochure or return to J&H Screen main page.
Features

:
Dry machines – concave 4-panel deck systems with varying angles to optimize body motion
Wet machines – convex 4-panel deck systems with various angles to take advantage of liquid conveying in the initial panels and steeper angles to convey the de-watered material in latter panels
800 to 3000 vpm operating range
Low energy consumption
Powdercoated carbon steel or all stainless steel construction to meet your needs
Available in 36", 42", and 48" widths